How social media abandoned news – and newsletters became existentially important to The Spinoff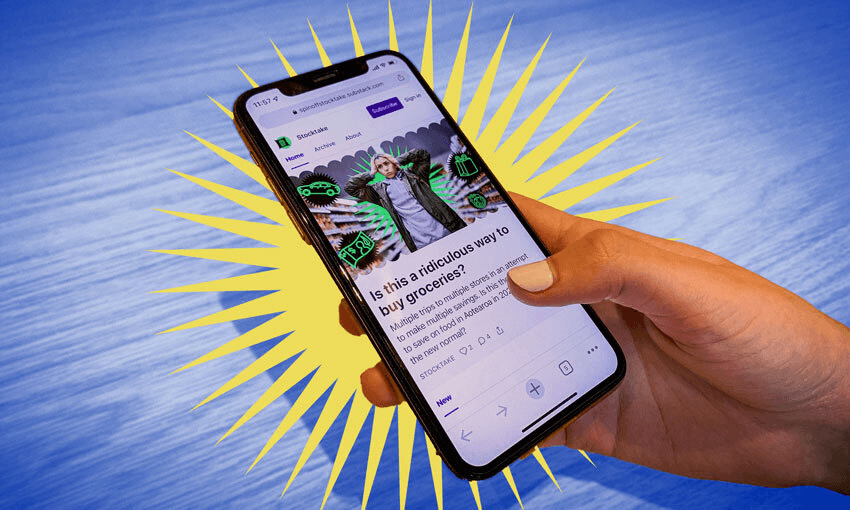 As Facebook turns to video, newsletters have become the antidote, an oasis of calm and self-preservation. That's why The Spinoff appointed its first newsletter editor. Founder and publisher Duncan Greive explains.
JGo back, if you can, to the Internet as it existed ten years ago. It was the golden age of blogging, with Tumblr at the top of user-generated content. Social media was largely text and link based, dominated by a benign Facebook where the worst that could happen was an unexpected boost from an acquaintance. Flickr was more famous than Instagram. The video was in a good old fashioned landscape format and was mostly on YouTube. If you watched at all, you certainly didn't on your phone – what kind of data-rich millionaire could afford?
At that time, legacy media still dominated our imaginations, and the moment was most firmly marked by the front page of the newspaper. Almost all of our dailies ran in broadsheet format, with several articles running or at the end.
The weekday NZ Herald moved its weekdays to compact format just under 10 years ago, in September 2012. Fairfax (now Stuff) would change its newspapers six years later, in 2018. Today, then While newspapers remain shining objects for the packaged and timely delivery of information, with the demise of the broadsheet format, the function and historical power of the front page has also changed. (Lately, Harvey Norman's generous support of the newspaper industry has also helped make the front pages much less impactful.)
An underestimated aspect of the difference between physical and digital products is the extent to which changes in digital products can pass without our being aware of them. The shift from large to compact has been a long-debated one, but bigger changes to the look or functionality of our favorite apps might register only weakly and rarely deserve to be. reported.
This applies even more to changes to the underlying algorithms. This means that while social media has evolved very dramatically over the past 10 years, most mainstream discussion has been limited to the arrival of new platforms, like Instagram and TikTok, or the angst of what they do to our children. What the products serve you, and the precise nature of this mixture, remains a somewhat esoteric discussion.
Yet its changes were infinitely more profound than any change in the format of a newspaper could be. And because we never discuss it, what we experience as users can slowly but inexorably change until, without really realizing it, it's completely different from what we initially envisioned. registered.
Video is eating up the internet
So it turned out with social media, which in recent years has moved decisively away from the news. Not all at once (he learned the hard way in Australia that he doesn't land well), but a little at a time, with those who rely on the platform for links to relevant news on the platform the proverbial boiling frog.
In its early days Facebook was a great place to get your news – links to news sites featured prominently in the feed, and users widely liked, commented on and shared news in a fairly basic and not controversial.
Yet in recent years the way people use social media has changed so much that it would seem totally alien to our innocents 10 years ago. If we had known what was coming, we could have come together and debated if this was what we wanted for us as a society, but the slippery and constant movement of tech products meant that there was only very rarely flashpoints that looked like they could be grabbed. of. And besides, a sense of inevitability had taken hold throughout the company – these things were everywhere and nowhere and therefore totally ungovernable.
Which brings us to today's weird world. Facebook, which once seemingly had the entire internet populace on it and felt entirely indomitable, now looks like a moldy relic. A place built on text, when first images and then vertical video dominate social attention. Perhaps most tellingly, Facebook was originally a place that naturally hosted links that people actually clicked on (unlike Twitter, a negligible traffic factor). All the next waves of social apps (Instagram, Snapchat, TikTok, BeReal) were defined as walled gardens that had no place for links and never wanted you to leave.
For a decade, Facebook has been busy trying to fix its product by making it more complex, adding more features. Some are successful, like Marketplace and Messenger, others less so, like Instant Articles and Deals.
Now perhaps the biggest change in its history is yet to come. The Verge obtained a leaked memo that promised a huge overhaul of its algorithm to make it closer to TikTok. It will once again merge Messenger and the main app, and emphasize content appearing from anywhere on "the social graph" – friends and family. More importantly, it will further increase awareness of Reels, its short-form TikTok video clone.
This will have profound implications for millions of people who rely on Facebook to do all kinds of things. But for us, and for you, the most important thing to understand is that this will have a huge impact on the news media.
What this means for the news, for The Spinoff and you
This may be the beginning of the end for naturally locally created news on Facebook. The company has been gradually reducing the volume of news in its feed for quite some time now, which will speed up this process. less than five years ago, 5% of his feed content was news. Now it has diminished to the point where it represents one content out of 250, less than half a percent. As a result, social interactions with news content in the United States have down 50% so far this year alone. As it becomes more like TikTok and emphasizes Reels, this proportion will decrease further. (Incidentally, I'm not mad at Facebook about this – it feels like the world is missing out and has to move with the times, which is its right).
As a publisher, these changes could have a huge impact on The Spinoff. To date, 40% of our traffic comes from social networks. The vast majority, north of 90%, go through Facebook. I can't say this any clearer – if you're one of the 130,000 people who follow us on Facebook and use this method to read our stories: stop. You need another plan – and we have one for you, so read on.
This has the potential to be an extinction-level event for news sites.
We don't want to go in that direction.
The vital importance of emails and newsletters
This is where newsletters come in. For five years we've published The Bulletin, a 7am e-mail that summarizes news from across New Zealand into an easy-to-digest five-minute read to start your day. It has become highly regarded and hugely popular, with 35,000 New Zealanders reading it every day.
We've supplemented it with a range of other newsletters, a number launched over the past few months, and all with a vital, refreshing voice from a single author with a fascinating perspective on their field. Each has insightful writing at the top and curated links to writing from across New Zealand at the foot.
The Boil Up is Charlotte Muru-Lanning writing about food and the culture that surrounds it.
Balance sheet is Chris Schulz who writes about New Zealand business, especially startups and the people behind them.
Future Proof is Ellen Rykers writing an honest yet optimistic view of the environment.
The Weekend is Shanti Mathias packing the biggest stories of the week on The Spinoff, for those who might have missed them.
The Daily is an early evening summary of all The Spinoff stories from that day in a short, simple and easy to read newsletter.
Rec Room is Catherine McGregor curating the best in TV, music, podcasts and pop culture (relaunching soon).
Subscribe to all our newsletters here
JThis week we announced that Anna Rawhiti-Connell, the brilliant mind behind The Bulletin, would expand her role to become our first-ever Bulletin Editor. She's a writer I've loved for a long time and who's followed in the footsteps of Alex Braae and Justin Giovanetti, but has really made The Bulletin her own. She's also extremely passionate about newsletters as a form, as you can tell from the brilliant and thoughtful perspective she brought to my podcast The Fold this week.
---
Follow The fold on Apple podcast, Spotify or your favorite podcast provider.
---
What we love about newsletters is that email is a protocol, not a platform. This means it arrives as part of a chronological flow that won't change when someone changes an algorithm or decides the business model has changed. After a decade of constant change in social media, it's a dream come true.
They also have a wonderful sense of calm and human curation. We started looking at newsletters years ago and named Anna just before news broke that Facebook was making these massive changes. What looked like an exciting new opportunity to serve our members and our public has suddenly become much more urgent.
So it bears repeating: if you're reading this and you mostly get The Spinoff on Facebook (or know someone who does), know that's about to change. You may remember coming to see us, but there are tens of thousands of brilliant technologists out there trying to keep you on social apps and never leaving. So chances are you won't.
Your best bet for staying in touch with what we're doing, and across this country's news and current affairs, is to sign up for one or more of our newsletters. They are some of the best writing we've ever written and come at a languid pace – most weekly, a few times a day. None take more than five minutes to read, all of them will make you smarter and more informed.
I invite you to try one or more (and please let your friends and whānau know about these changes and our newsletters too – word of mouth is still our best friend). They are quickly joining podcasts to become the heart of what we do, and something we are all passionate about. The subscription also helps your local independent media business survive these huge changes, coming soon to a platform near you.

Nga manaakitanga,
Duncan Greive
Publisher, The Spinoff