rcmd – Reinvented Command Tab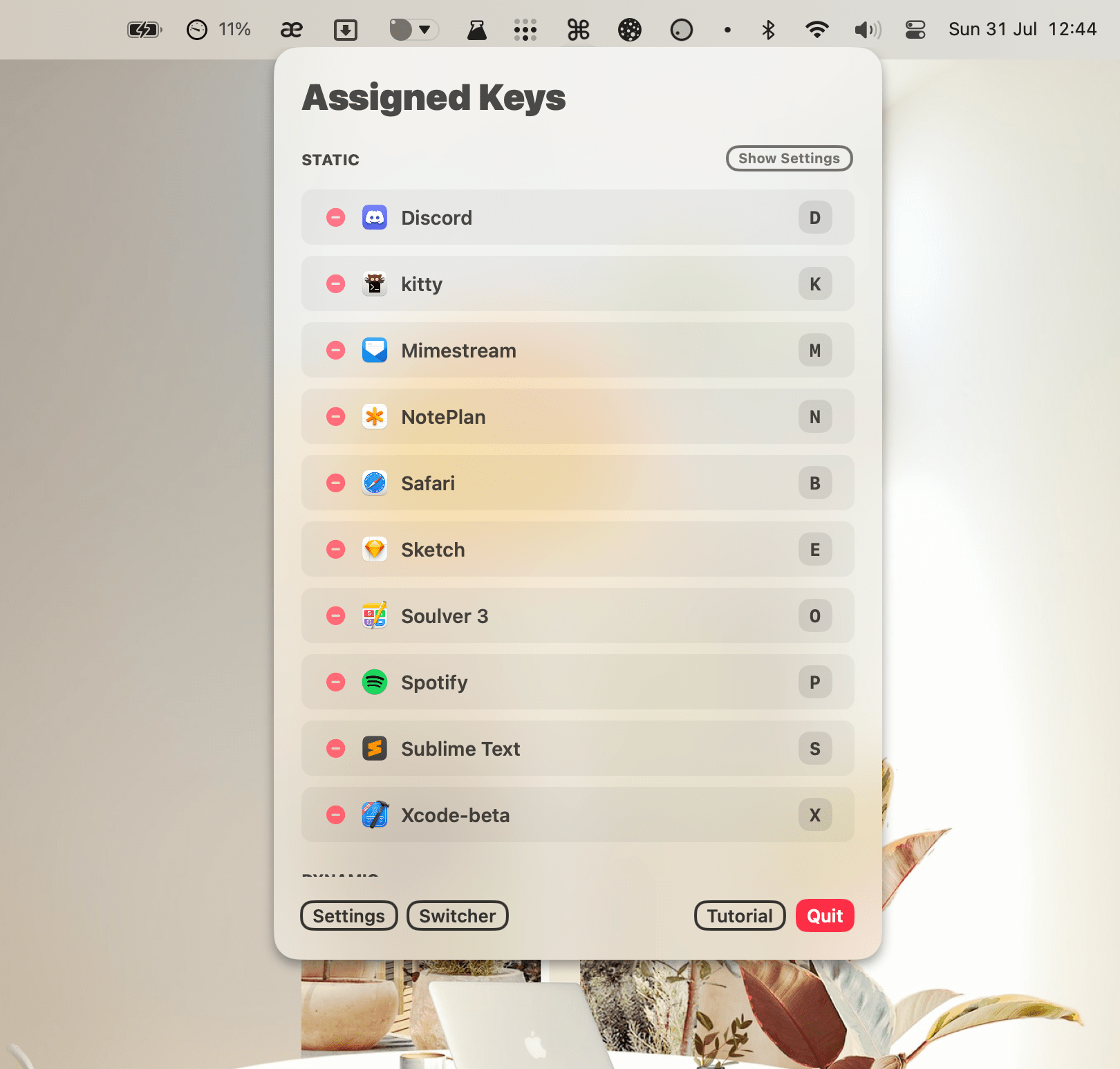 Hi! I'm Alin Panaitiu, the developer of
rcmd,
an application to switch applications in the fastest way possible on Mac: hold the key
right control
key and press the key corresponding to the
first letter of app name
(for example
rcmd
+
M
for
Mail
,
rcmd
+
S
for
Safari
etc.)
I'm posting this here now because I just launched rcmd v2 which finally adds a free downloadable trial on the official website: https://lowtechguys.com/rcmd
---
In the past I used apps like Karabiner, skhd and BetterTouchTool to manually assign right control + letter to apps for quick switching and launching. This worked great as I mostly switched between the same apps, but it quickly got annoying that I always had to reassign those keys every time I added a new app to my workflow.
Command tab works perfectly fine for most people, but I usually have to switch between 10+ apps while I'm working and that means I have to press the Tongue key multiple times to access an app I haven't focused on lately.
rcmd is the answer to all these minor annoyances. It can:
to concentrate apps with one touch
launch applications if they are not already running
to hide applications with the same single key if they are already targeted
adapt dynamically key usage of your application
attribute your own custom keys with a single keypress (right control + Right option + letter to assign to the currently targeted application)
The app costs $6 on the App Store and can be tried before you buy by downloading it from the official website.
This forum should not be used for user support, so I'll also leave a link to the contact page in case you run into any issues: https://lowtechguys.com/contact?app=rcmd
---
I'm sure some people won't see any value in it and probably won't need the app, no problem with that. To give you an idea of ​​where the app shines best, I'll share my daily workflow and apps used here.
When developing rcmd, I use:
X-Code to write the code and build/debug the application
sublime text for more complex editing (lots of multicursor operations, regex replacement, etc.)
Kitty like my terminal for git, rsync etc.
NotePlan for task management, notes, blogging
Mimestream to respond to support emails
Discord to respond to support chats
Spotify to drown out the sound of children playing outside so I can concentrate
Pixelmateur Pro to create graphics like annotated screenshots for the website
Sketch to draw app icons, symbols for website and app
Lift to convert units, work with time, or develop custom math formulas
Safari, firefox, Chromium to test the site
Hope you can already see how difficult it would be to order the tab through so many apps.
rcmd allows me to:
switch to any of these apps with a single touch
press rcmd-K to check for a long command in Kitty, then without lifting your fingers, press rcmd-K again to hide Kitty and continue what was doing
launch these apps with the same key if they're not already running, I don't have to check if they're running before switching to these
focus applications that I call temporary by adding Right shift (rshift)

for example, I may need to focus on Preview to see a PDF/image file I just opened, but rcmd-P is already assigned
I just use rcmd-rshift-P concentrate the unassigned Papp review
if i have more temp apps starting with Ppress the hotkey again to cycle through these apps in order
You can see what my rcmd assignments look like in the screenshot below: