Series 7 is really great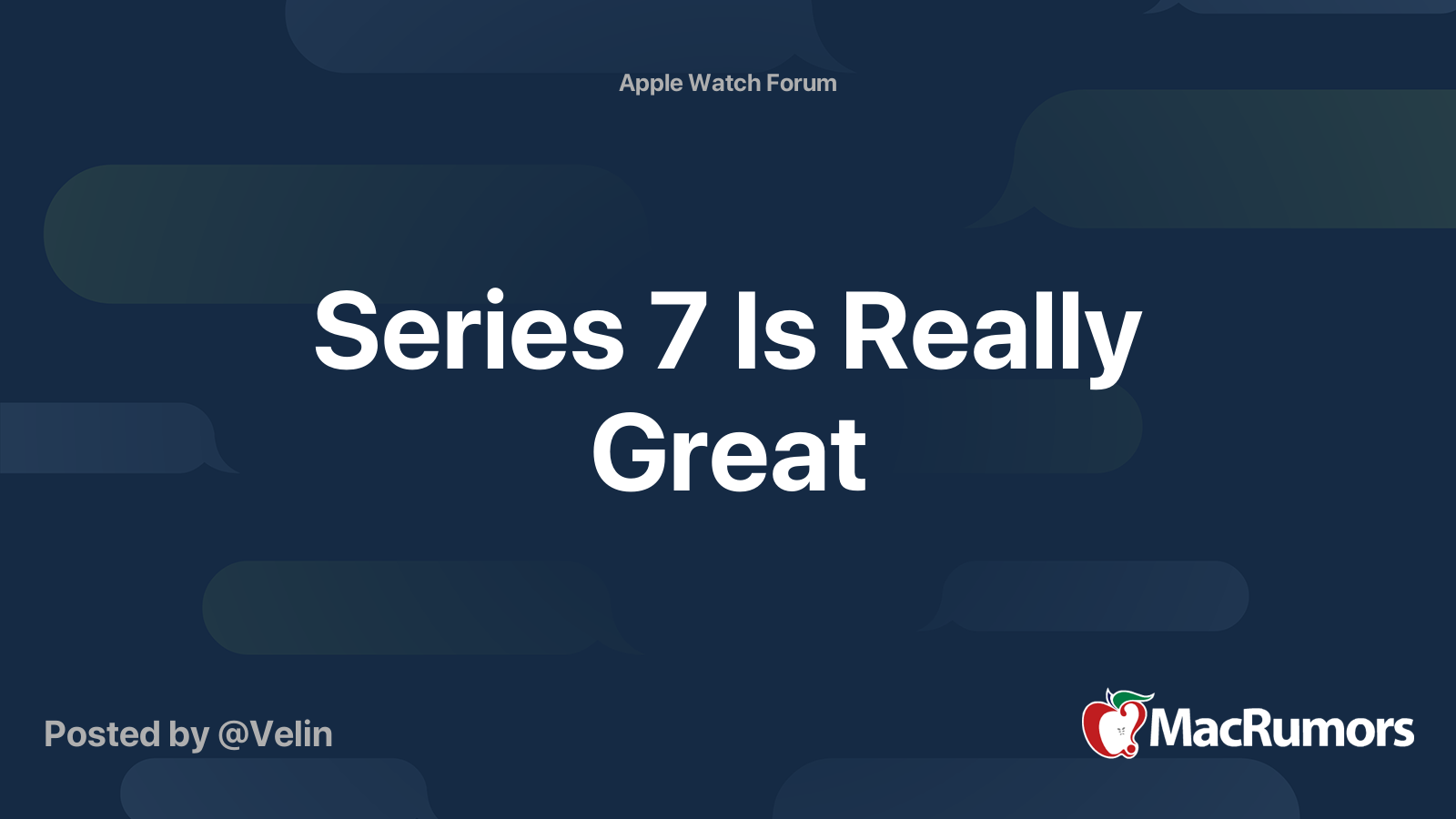 I recently bought my first smartwatch and my first Apple Watch, I received a 41mm aluminum series 7 on a sport loop. I didn't know what to expect, thought I would probably return it after two days. Well, I was wrong. The Apple Watch Series 7 is fantastic, and I'm amazed at all the useful and cool things that are packed into this little box. I was looking to replace a traditional quartz watch with another. After using the Series 7, no more "traditional" watches for me. I know for sure that I'll stick with the Apple Watch in the future, can't wait for the Series 8 and maybe a titanium model.
If you're on the fence, there are several things that stand out, from my perspective.
Subtle/Stealth Notifications and Communication: Series 7 is all about it with subtle notifications regarding calls, messages, emails, and more. I never understood how much I would love this aspect of a smartwatch, especially if you use your iPhone for work. Before I watch, I'd be annoyed if my iPhone buzzed or rang during meetings, at dinner, where phone access is a pain (driving, planes, conferences, bathroom), or somewhere I needed to. be silent. Apple Watch solves this problem wonderfully. You can tune the Series 7 to get a simple haptic rumble on your wrist. Take a look at the watch and see who/what it is, pick up the call/message on your watch, or grab your iPhone where it immediately switches, or ignore it. The beauty is that I have now totally silenced all devices – no more ringtones/tones/noise nuisance. All I need is that simple growl of the wrist. The only person who knows I have incoming calls/messages/calendar items is me, and I can accept or reject with a flick of my wrist. To like.
Watches with infinitely adjustable dials and complications: incredible. Choose any number of watch faces and you can set four, five, six, even seven individual complications (I think) to do everything you need on one watch face. Alarms, timers, phone calls, emails, messages, weather, GPS, day/date, alternate time zones, etc., this simply destroys the functionality of "traditional" watches. I guess Apple does it better than the competition.
FANTASTIC TRAVEL WATCH: This watch is so, so much better for travel than a traditional GMT, and much easier to use. You can configure most watch faces to spell out a city name and get a digital time readout, it's really awesome. Or you can have a traditional GMT watch hand notification if you prefer. The Apple Watch automatically readjusts time zones, of course, and it's so simple to set your alternate zones. Plus, easily set your alarms for check-ins and check-outs, and the calendar syncs seamlessly. Traditional watches can be very painful for this. Never going back to it after traveling with the 7 series. Also the sport buckle is comfortable and infinitely adjustable, I find I prefer it to steel/precious metal straps.
Apple Pay: I had no idea how much I would love this feature on a wristband. Double tap a button and make a purchase, and you can set a default credit card on the iPhone. Apple Watch works like a Disney band in their theme parks. Works very well. I hate looking for money and credit cards when traveling. Again a real joy to use, makes things so much easier.
Finally, the integration between iPhone and Apple Watch, the Apple Watch team really pulled it off. Yes, there's a learning curve for setting notifications, using apps and complications, and learning button presses and swipes, plus some notification quirks (looking at you, yellow workout notification dot ), but you can probably master the Series 7 within two or three days of unboxing. The Apple Watch does a great job mirroring the iPhone, and I don't think I've missed a call or message yet (this is critically important). Apple Watch was perfect.
Either way, if you own an Apple Watch, you know all of this. But if you're like me, someone who used to think, hey, Apple Watch is a waste of time and money – it's not. It's a great piece of kit and great technology, and I'm really glad I made an impulse buy that turned out path better than I imagined.